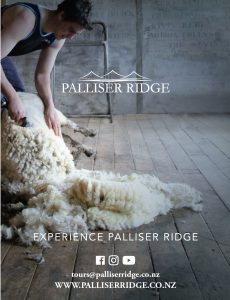 This Summer we are proud to open our farm gates to invite you to our newly renovated Woolshed Store, full of traceable farm products, as well as offering our Mini Farm Tours.
We'll be open from 12pm until 4pm each fortnight through the warmer months and also by arrangement, feel free to give us a call, we're quite often down at the Palliser Ridge Woolshed working away!
In the Woolshed you'll find our Palliser Ridge Lambs Wool, available in raw form, ready to knit, or already hand knit or crocheted into beautiful garments, We've also got our Palliser Ridge Preserves, Honey and Merchandise.
Lisa's always got the jug on, so pop in and share a cuppa while we tell you about our Farm Story.
If getting out and about is more your style, we hear you! We've developed a mini version of our existing Farm Tours- the Farm Experience and the Woolshed Experience. Our Mini Farm Tour is available each day we are open, departing the Woolshed at 1pm on the dot, make sure you're there early or indicate your interest ahead of time to secure your spot.
In this tour, you'll spend 90 minutes with our Farm Manager Kurt, he'll take you over the main farm to see some picturesque views, before running the work dogs and showing you what they can do. Before heading back to watch a shearing demo, you'll see some of our environmental work, including newly planted wetlands full of New Zealand natives. These tours are $70pp and run on a first in first served basis.
For more info, don't hesitate to email Lisa on info@palliserridge.co.nz or call on 0274248491
For our Opening Hours click here